Quintetto receives a patent for its holographic service desk solution – Q-room
Quintetto S.r.l has been awarded a patent for its holographic service desk solution
Q-Room, the holographic telerelationship room
Pont Saint Martin, Italy October 11th, 2018– Quintetto, is proud to announce that it has received a patent (patent N. 102015000056697) from the Ministry of Economic Development in Italy. The patent has been awarded for its commercial holographic telerelationship solution, Q-room. The patent is a recognition of the intense and sophisticated research and development work carried out by Quintetto in the field of interactive relationship services, a success shared with the National Research Council of Italy, who owns 10% of the patent.
Having already been awarded, the Seal of Excellence by the European Union in both 2016 and 2017, this is a giant leap forward in securing the IP-rights of a product that has been called the future of smart banking.
Q-Room is a holographic telerelationship room, which allows people to interact from remote locations, while given the experience of being in the same room. The state-of-the-art room design is based on advanced optical perceptions. It combines hardware (cameras, monitors, computers and speakers) with a specific scenography (lighting, sound, reflections and interior design) to create lifelike hologram representations of people and space. Physical interaction is based on real facial expressions, gestures, and subtle nonverbal cues that are the foundation of a meaningful communication experience.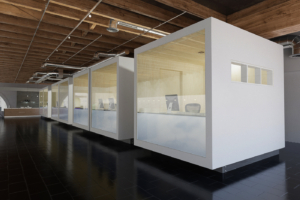 back-end hologram rooms
Q-Room was developed on Quintetto's Immersive Content & Communication Platform that provides State-of-the-art Artificial Intelligence (AI), multiple in-and output mechanisms to enhance the man-machine modality & holographic mixed reality to create a natural environment for customer services and relationship building.
About Quintetto
Quintetto is located in Pont Saint Martin (Italy) and has been an R&D company since 2005. Having been the receptor of multiple research grants from the Aosta valley and the European union in the past 5 years. Said grants have allowed Quintetto to aspire to excellence in the world of streaming, security, AI and holographic solutions aimed at naturalizing human integration in the digital world. Having underwent a complete restructuring in 2018, Quintetto is now a global software company with main focus in True real-time streaming, Digital signage 4.0 and holographic solutions.
For more info please contact Ivano Canteri, Sr. VP Marketing & Sales, or visit our website here. Main switch board: +39 0165 18 45 290
https://www.quintetto.it/wp-content/uploads/2018/10/Front-view-QROO.jpg
682
1024
admin
https://www.quintetto.it/wp-content/uploads/2020/04/LOGO.png
admin
2018-10-11 13:21:20
2021-06-08 07:53:57
Quintetto receives a patent for its holographic service desk solution – Q-room