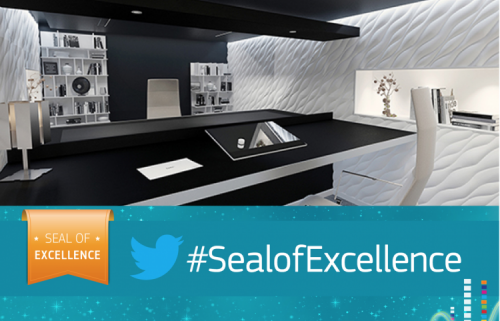 FOR IMMEDIATE RELEASE 30.11.2017
QUINTETTO S.R.L
Quintetto receives Seal of Excellence certificate from the European Commission
Quintetto has been awarded the Seal of Excellence for the third time by the European commission following a project proposal for "Q-room". Submitted under the Horizon 2020's SME instrument phase 2 and awarded on October 18th, 2017 in the "Open Disruptive Innovation Scheme" category.
The Seal of Excellence is awarded to those proposals that have successfully passed the stringent selection and award criteria – EXCELLENCE, IMPACT, QUALITY, AND EFFICIENCY OF IMPLEMENTATION. The Seal of Excellence is the EU's quality label, marking first-class innovative ideas worthy of investment.
The European Commission recommends the Quintetto proposal for funding by other sources since Horizon 2020 resources available for this specific call were already allocated.
Q-room Creates "true presence" for service points within service-critical businesses.
Q-room is the world's first immersive holographic telepresence solution; enabling virtual attendance for sales, service, projects and educational purposes. Removing the need for expensive local offices and travel, while preserving the near physical presence of the human interaction and assistance. The state-of-the-art room is designed with advanced optical perception. It combines hardware (cameras, monitors, computers and speakers) with a specific scenography (lighting, sound, reflections and interior design) to create lifelike hologram representations of people and space.
About Horizon 2020
Horizon 2020 is the biggest EU Research and Innovation program with nearly €80 billions of funding available over 7 a year period (2014 to 2020). Aimed at securing Europe's global competitiveness.  It promises more breakthroughs, discoveries, and world-firsts by taking great ideas from the lab to the market. The goal is to ensure that Europe produces world-class science, removes barriers to innovation and makes it easier for the public and private sectors to work together in delivering innovation.
About Quintetto
Quintetto was founded in Pont Saint Martin, Aosta valley in Italy in 2005. For the past 12 years it has been an R&D and software engineering company. In 2017 Quintetto started to build, on top of the solid technical foundation, a global sales and service organization by investing in a sales and marketing department with a network of value-add partners to build a global presence. Emphasizing on the use of Artificial Intelligence to transform the way people interact using immersive and holographic "true presence" technology. Quintetto has been awarded the Level of Excellency, from the European Commission (HES-2020) for its Q-Room product in the "open disruptive innovation scheme" in both 2016 and 2017.
https://www.quintetto.it/wp-content/uploads/2017/11/Q-room-seal-of-excellence-e1512033420185.png
396
500
admin
https://www.quintetto.it/wp-content/uploads/2020/04/LOGO.png
admin
2017-11-30 09:04:08
2020-07-08 15:35:21
Quintetto awarded seal of excellence by European Commission