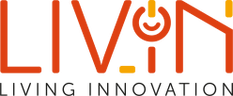 Quintetto invited to present Qroom at the next international workshop of Living Innovation (https://www.living-innovation.net/explore) coordinated by the Institute for Managing Sustainability at Vienna University of Economics and Business.
The workshop will be held on June 9th in the frame of the programme of events focused on the development of responsible, smart home solutions that tackle societal challenges and respond to pressing societal trends. Living Innovation initiative, funded by the European Commission's Horizon 2020 programme is strong of 14 partners from 10 European countries, including nine leading companies in the areas of smart homes and smart health, The project creates two distinct opportunities:
Giving lead users and citizens the chance to be involved in the design of the technology that will shape their future lives
Giving industry the possibility to respond directly to changes and needs of users and society.
Qroom is the immersive service desk solution developed by Quintetto to respond to telepresence and teleinteraction needs of companies and organisations looking for a more natural and comfortable environment for people to access remote added value services: a segment of operation in which Quintetto is active since its inception and that grew substantially in interest following the Covid-19 pandemic. Amongst the attendees: Accor, ÖBB, Novartis, Deutsche Telekom, Google, Microsoft, Austrian Airlines….
For information: ivano.canteri@quintetto.it
https://www.quintetto.it/wp-content/uploads/2021/06/livin-logo-transparent.png.xhtml_.png
96
233
admin
https://www.quintetto.it/wp-content/uploads/2020/04/LOGO.png
admin
2021-05-15 10:30:01
2021-06-08 17:18:03
Quintetto (and Qroom) to participate to the Virtual Innovation Workshop on June 9th 2021.